Ryuichi Sakamoto | SOUND AND TIME
18 August, 2023 - 5 January, 2024
M WOODS (People's Park), Chengdu

With collaborative works by Shiro Takatani | Daito Manabe | Zakkubalan | Apichatpong Weerasethakul
Head of Exhibition Program
: Wanwan Lei
Curated by
Sachiko Namba and Victor Wang
Exhibition Director
: Deng Yingying
We are pleased to announce a one-of-a-kind retrospective of the artwork of pioneering Japanese composer and artist Ryuichi Sakamoto. This retrospective, "SOUND AND TIME", is also the inaugural exhibition of the newly founded M WOODS (People's Park) in Chengdu.
Photo by Zakkubalan
©2020 Kab Inc.
Two years after the debut of Sakamoto's artwork in China, "Ryuichi Sakamoto:
seeing sound hearing time", at M WOODS (Hutong), Beijing, the first and most comprehensive overview of his work, Sakamoto, along with his collaborators, decided to develop "SOUND AND TIME" as a progression from the previous exhibition, creating in Chengdu a modified large-scale retrospective that presents a comprehensive review of Sakamoto's artistic career, highlighting the fundamental ideas about sound, time, and installation art that Sakamoto explored throughout his career.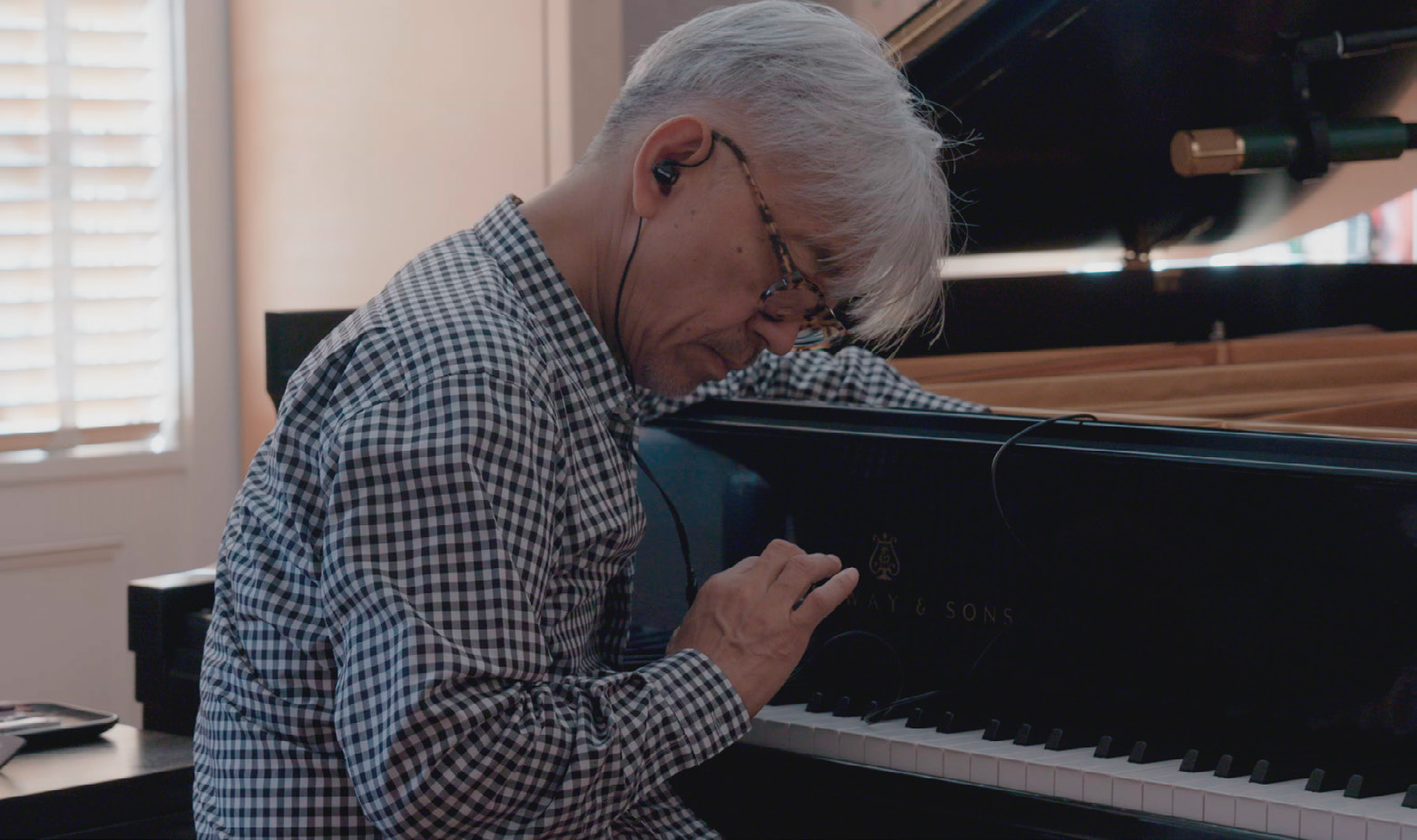 图片来自《 坂本龙一:终曲》
史蒂芬· 野村· 斯奇博执导
For more than fifty years, Sakamoto continuously defied conventional boundaries between different disciplines and modes of artistic expression, radically transforming the way we think about creative practice and the potential of art. As the title of the exhibition suggests, the show offers the audience a series of unique multi-sensory spaces that reveal and describe aspects of the intangible world, previously imperceptible, through a blend of audio and visual languages. Each gallery in the museum expands on Sakamoto's concept of "installation music", in which the artist and his collaborators have designed environments for audiences to experience sound within a physical space.
展览现场,《你的时间》(2017),坂本龙一 + 高谷史郎,"观音·听时", 木木美术馆(钱粮胡同馆),北京,2021
图片由木木美术馆提供
One of these is the new version of
Is Your Time
(2017/2023) made in collaboration with Shiro Takatani, which has been specially updated and expanded for this exhibition. When Sakamoto encountered a piano at a high school in Miyagi Prefecture that was washed out by the tsunami from the Great East Japan Earthquake in 2011, he interpreted the piano as one that had been re-tuned by the forces of nature. Sakamoto felt as if the piano were a corpse of an instrument once alive, and reanimated it as a device that expresses earthquakes, or the vibrations of the earth.
展览现场,《你的时间》(2017),坂本龙一 + 高谷史郎,"观音·听时", 木木美术馆(钱粮胡同馆),北京,2021
图片由木木美术馆提供
At the centre of the exhibition is the complex audio-visual installation
LIFE – fluid, invisible, inaudible
… (2007), co-created with Shiro Takatani, highlighting an important point of departure for the artist into the expanded territory of experiential sound spaces. The work contains two important sub-currents: the breaking of the unilateral experience of opera, achieved here through the recreating and deconstructing of Sakamoto's 1999 opera
LIFE
. Secondly, the integration of technology, image, and nature to achieve what Sakamoto calls the "the interstices of sound and image", are configured in the work, as if walking through a Japanese garden. Tanks, suspended in the air like an "image cloud", produce an intricate mix of sound, artificial fog, and video clips – organised by a taxonomical system – that are projected onto the floor and include images from the original opera production.
展览现场,《生命-流动,不可见,不可闻……》(2007/2021),坂本龙一 + 高谷史郎,"观音·听时",木木美术馆(钱粮胡同馆),北京,2021
图片由木木美术馆提供
In the spring of 2017, Sakamoto released his first solo album in eight years,
async
, and with it, he re-contextualised the way he wanted to both listen to and experience an album.
async
takes a central role in the current exhibition, highlighting the difference between "listening" to an album and "experiencing" it in space - what Sakamoto calls "installation music". Sakamoto's concept of experiential sound space, using
async
as a kind of medium or point of departure, along with collaborators Shiro Takatani (
async
– drowning
), Zakkubalan (
async – volume
), and Apichatpong Weerasethakul (
async - first light)
, is further explored in the series of
async
galleries in the exhibition which enable both a deeper understanding of the album and, importantly, the chance to physically "enter" the music through a space designed by Sakamoto and his collaborators.
展览现场,《生命-流动,不可见,不可闻……》(2007/2021),坂本龙一 + 高谷史郎,"观音·听时",木木美术馆(钱粮胡同馆),北京,2021
图片由木木美术馆提供
The exhibition also includes a new site-specific installation
TIME-déluge
(2023) which will be shown to the public for the first time. Originally a wordless opera, or "Mugen Noh," a subset of Noh theatre,
TIME
premiered at the Holland Festival in 2021. Made with Shiro Takatani,
TIME-déluge
expands both physically and conceptually on Sakamoto's ongoing exploration of "asynchronism," and moving beyond linear concepts of time in sound and performance. In addition, a comprehensive timeline will be presented to provide an overview of the artist's lifelong career in art and music. Visitors are invited to write down and share their thoughts, feelings, and ideas on his work and practice.
展览现场,《异步-第一束光》(2017),坂本龙一 + 高谷史郎,"观音·听时",木木美术馆(钱粮胡同馆),北京,2021
图片由木木美术馆提供
展览现场,《异步-沉溺》(2017),坂本龙一 + 高谷史郎,"观音·听时",木木美术馆(钱粮胡同馆),北京,2021
图片由木木美术馆提供
展览现场,《异步-空间脉动》(2017),坂本龙一+ 卅克柏岚,"观音·听时", 木木美术馆 (钱粮胡同馆),北京,2021
图片由木木美术馆提供
展览现场,《水的样态1》(2013),坂本龙一 + 高谷史郎,"观音·听时",木木美术馆(钱粮胡同馆),北京,2021
图片由木木美术馆提供
展览现场,《水的样态1》(2013),坂本龙一 + 高谷史郎,"观音·听时",木木美术馆(钱粮胡同馆),北京,2021
图片由木木美术馆提供
主办方Organized by:
木木美术馆M WOODS Museum
协办方 Co-organized by:
Kab Inc. / Kab America Inc.
展览支持 Supported by:
YAMAHA MUSIC JAPAN CO., LTD.

EASTERN SOUND FACTORY

展览合作 Cooperated by:

dumb type office
Yamaguchi Center for Arts and Media [YCAM]
NTT InterCommunication Center [ICC]

commmons

*完整合作伙伴名录将于近期公布。

Full list of exhibition partners will be announced soon.
About the artist
Photo by Zakkubalan
© 2022 KAB Inc.
Ryuichi Sakamoto was a composer, producer, artist, and environmental activist born in Tokyo. Making his debut in 1978 with the album
Thousand Knives
, Sakamoto's diverse résumé includes pioneering electronic works in the legendary techno group Yellow Magic Orchestra, producing globally-inspired pop albums and numerous classical compositions, two operas, and nearly 45 original film scores for directors, including Bernardo Bertolucci, Pedro Almodóvar, Brian De Palma, and Alejandro González Iñárritu. His film soundtracks have won prestigious awards, including an Academy Award, two Golden Globes, and many more.
Sakamoto made considerable contributions to the art world with both solo and collaborative installations and multi-piece exhibitions presented in galleries and museums worldwide. Most recently, M WOODS, Beijing, presented the largest and most comprehensive collection spanning 30 years devoted to Sakamoto's artworks in various media, centering around 8 large-scale sound installations.
Premiering at the Holland Festival 2021, Sakamoto and longtime collaborator Shiro Takatani presented a new theater piece,
TIME
.
TIME
continues to tour the world, bringing the artist duo's last collaboration to long-time and new fans alike.
On January 17th, 2023, his 71st birthday, Ryuichi released "12", his 15th solo album. The new album is a collection of 12 songs selected from musical sketches Sakamoto recorded like a sound diary during his two-and-a-half-year battle with cancer.Ryuichi Sakamoto passed away in March 2023 at the age of 71.
About the collaborating artists
Shiro Takatani
Founding member of the artist collective "Dumb Type," Takatani continues to create numerous performances and installations that have been presented in theatres and museums around the world. Besides Dumb Type, Takatani began a parallel solo career in 1998. In his solo activities, he has directed visuals for Ryuichi Sakamoto's opera
LIFE
in 1999. He also created his own performances such as
ST/LL
with music by Ryuichi Sakamoto, which premiered at Le Volcan – Scène Nationale du Havre in 2015. His first solo exhibition, Camera Lucida, was held at Tokyo Photographic Art Museum in 2013. Dumb Type's first large-scale solo exhibition,
DUMB TYPE: ACTIONS + REFLECTIONS
, was held at Centre Pompidou-Metz in 2018. The latest theater piece by Ryuichi Sakamoto + Shiro Takatani,
TIME
, premiered at the Holland Festival in 2021. In 2022, Dumb Type welcomed Ryuichi Sakamoto as a new member and created a new installation for the Japan Pavilion at the Venice Biennale.
Daito MANABE
Artist, programmer, and DJ.Launched Rhizomatiks in 2006. Specially appointed professor at Keio University SFC.Manabe's works, which range into a variety of fields, take a new approach to everyday materials and phenomena. However, his end goal is not simply rich, high-definition realism by recognizing and recombining these familiar elemental building blocks. Rather, his practice is informed by careful observation to discover and elucidate the essential potentialities inherent to the human body, data, programming, computers, and other phenomena, thus probing the interrelationships and boundaries delineating the analog and digital, real, and virtual.
Apichatpong Weerasethakul
Apichatpong Weerasethakul is recognized as a major international filmmaker and visual artist. His works are distinguished by their use of nonlinear storytelling, which frequently addresses themes of memory, loss, identity, desire, and history. His creation has earned him widespread international acclaim and numerous awards, including the Cannes Jury Prize in 2021 for
Memoria
. He also won the Cannes Palme d'Or in 2010 with
Uncle Boonmee, Who Can Recall His Past Lives.
His film
Tropical Malady
won the Cannes Jury Prize in 2004, and
Blissfully Yours
won the Cannes Un Certain Regard Award in 2002. His artworks have been acquired by such prestigious institutions as Tate Modern, Fondation Louis Vuitton, Centre Georges Pompidou, Museum of Contemporary Art Tokyo, M+, and SFMOMA.
His recent projects include SleepCinemaHotel (2018), A Minor History (2021, 2022), For Bruce (2022), and A Conversation with the Sun (2022). Apichatpong lives and works in Chiang Mai, Thailand.
Zakkubalan
Zakkubalan (est. 2016) is Tokyo- and New York-based artist duo Neo Sora and Albert Tholen. Working in film, audiovisual installation, and sculpture, the pair uses cinematic affect and abstraction to promote alternative ways of contemplating our environment. They have exhibited installation and video work at the 2019 Singapore Biennale, 2019 Dojima River Biennale, MWOODS Museum, Watari-um Museum of Contemporary Art, Sogetsu Art Center, and the 2017 Reborn-Art Festival, among others. Zakkubalan's short film, "The Chicken" (2020), directed by Sora and produced by Tholen, premiered at the 2020 Locarno Film Festival and went on to play festivals around the world, including the New York Film Festival and the Hong Kong International Film Festival.
About the curators
Sachiko Namba:
Since serving as curator at the Museum of Contemporary Art Tokyo, Sachiko Namba has curated a number of international exhibitions in and outside of Japan. She has authored works including "Curating Contemporary Art in Japan: 1950s to the Present" and "Curating Contemporary Art in Japan: Exhibition-Making Handbook." Her curatorial projects include "Garden for Children" (2010, Museum of Contemporary Art Tokyo), "Ryuichi Sakamoto: seeing sound, hearing time" (2021, MWOODS Hutong, Beijing), and "OHMAKI Shinji — Before and After the Horizon" (2023, Hirosaki Museum of Contemporary Art, Aomori, Japan). She served as Curatorial Project Manager for the Sapporo International Art Festival in 2014 (SIAF 2014) and curator for the Yokohama Paratriennale 2014. She is currently Adjunct Curator at the Hirosaki Museum of Contemporary Art and Project Associate Professor at the Center for Curatorial Studies, Tokyo University of the Arts.
Victor Wang:
Victor Wang is currently Artistic Director and Chief Curator of M WOODS Museum: Beijing and Chengdu. With cultural exchange emerging as a common thread in his work, Wang has curated collaborative exhibitions with institutions such as Palais de Tokyo, Paris, Tate Modern, London, The National Gallery, Berlin, and the first collaborative exhibition between the British Museum (U.K.) and a non-state-run art museum in China. Wang has recently curated the first large-scale museum surveys in China of artists such as: Ann Veronica Jannsens (2023); Salman Toor (2023); Martin Margiela (2022); Bruce Nauman (2022); Man Ray (2021); Ryuichi Sakamoto (2021); Giorgio Morandi (2020); and Richard Tuttle, (2019), all at M WOODS Museum. With a particular interest in performance and live art, Wang has previously served as curator of Frieze LIVE at the Frieze Art Fair in London and is also the editor of the publication "Performance Histories from East Asia 1960s–90s", published by DRAF in 2018. Additionally, he is the founder of the Institute of Asian Performance Art (IAPA).