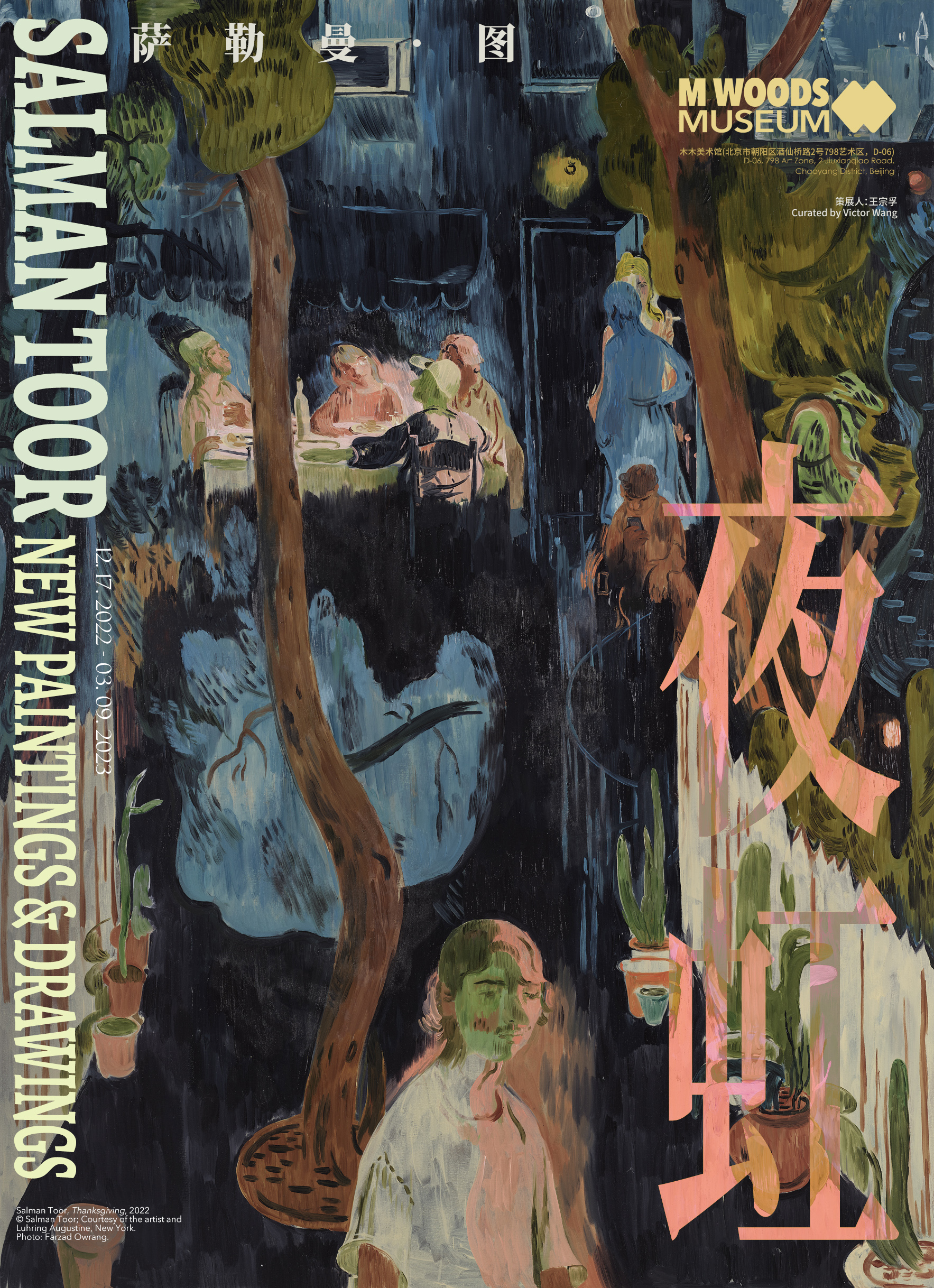 Salman Toor: New Paintings and Drawings

17 December 2022 – 2 April 2023

M WOODS 798, Beijing, China

Curated by Victor Wang, Artistic Director and Chief Curator, M WOODS

Assistant Curator, Qi Yuanlin, M WOODS.
Salman Toor: New Paintings and Drawings
is the first solo museum exhibition in Asia of Pakistan-born, New York-based artist Salman Toor. The presentation will showcase a selection of 27 new paintings and 23 new works on paper, exploring important themes that converge in Toor's work, from museological allegories and imperialist histories, to his conversation with nature as a space for queer freedom. Toor created an ambitious new body of work for the Beijing exhibition, and the presentation was developed over the last two years through close conversations between the artist and Victor Wang, Artistic Director of M WOODS.
Ali
2022
Oil on canvas
40.6 x 30.5 cm
Blurring the line between memoir and fiction, Toor's work presents a nuanced view of the queer and the immigrant experience, questions of cultural ownership, and the search for self-love and community. Rendered in Toor's signature figurative style, which both pays homage to and wryly subverts a variety of art historical references, the works are camp, macabre, romantic, and reverential. Probing his own identity – oscillating between Eastern Muslim man and queer brown boy – Toor's work speaks to the challenge of reconciling multiple selves and the expectations carried by each.
The Yellow Group
2022
Oil on canvas
121.9 x 76.2 cm
"Salman Toor: New Paintings and Drawings
", Installation View of M WOODS Museum, 2023, at M WOODS 798, Beijing. © MWOODS
A love of costume features prominently in Toor's work. Contemporary and historical styles comingle to deliberately confuse class, culture, and individuality, at times adding a layer of humorous absurdity to otherwise somber subjects.
The Yellow Group
(2022) depicts a motley crowd – a patched-up pauper, a bald old man with a marionette-like nose, a blue-eyed adventurer in a Napoleonic hat, and a darkened Muslim woman with a head covering – waiting humbly at the threshold of an immigration counter. The cameras which point at these travelers function as tools of control and surveillance, whereas in works like
The Artist
(2022) they are employed for a portraits of self-empowerment. Toor's emphasis on the way appearance is scrutinized brings into relief the way in which identity is both externally determined and internally defined.
The Artist
2022
Oil on linen
50.8 x 40.6 cm
Another important device that Toor employs in his work is the use of allegory, exemplified in the recurring scenes of imaginary museum spaces such as
The History Room
(2022). In this painting, a man confronts a mysterious assortment of museological artefacts including Roman portrait busts, fragments of wooden figures, and an open book. These objects lend a critical view to the manner in which museums have historically enabled and supported systems of classification and colonial pillage. The painting also raises questions: Did the protagonist just chance on these objects, or is he here to reclaim them, or mourn them?
The History Room
2022
Oil on canvas
162.6 x 248.9 cm
The central hall of the exhibition at M WOODS is dedicated to "queering" the nocturnal as a space of desire, shelter, thrill, and the potential of pleasure. The drooping and contorting trees in
Night Park
(2022) echo the shapes and gestures of Toor's femme figures, and are rendered in his signature array of poisonous, peaceful, and verdant greens. Effortlessly weaving together modernist impulses with European Old Master techniques in painting, Toor's work bridges cultures and eras in order to reflect on our current moment and propose an alternative narrative for the future. His art allows us to contemplate the complexities of love, gender, and communal and personal identity. Specific works and themes have been selected for display in this exhibition in order to stimulate local discussions and provide a space for a critical openness to develop and take effect.
Night Park
2022
Oil on linen
170.2 x 307.3 cm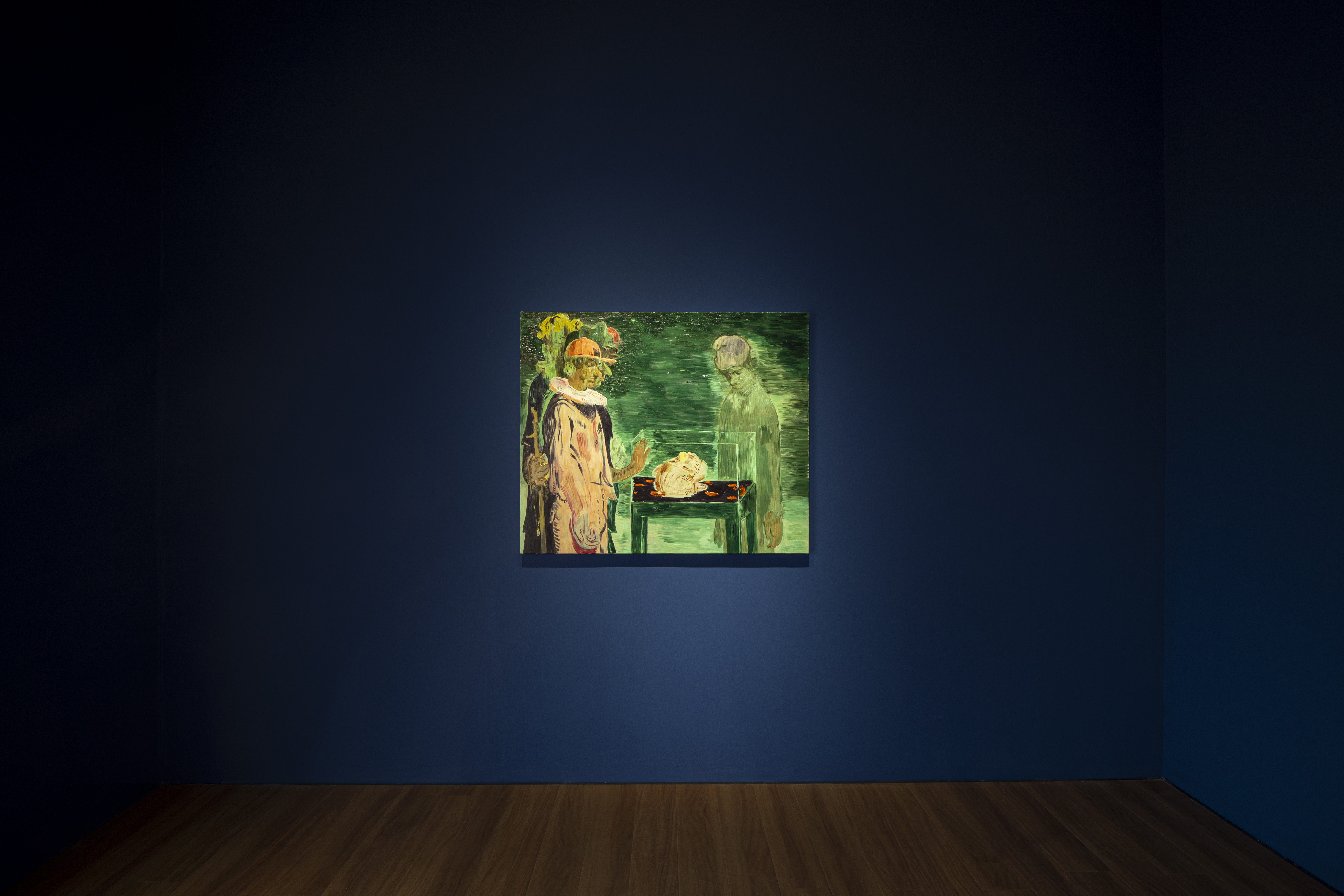 "Salman Toor: New Paintings and Drawings
", Installation View of M WOODS Museum, 2023, at M WOODS 798, Beijing. © MWOODS
Salman Toor: No Ordinary Love,
a concurrent solo exhibition organized by and originating at the Baltimore Museum of Art in Maryland, is touring in the United States with upcoming presentations at Tampa Museum of Art in Florida, Honolulu Museum of Art in Hawai'i, and Rose Art Museum at Brandeis University in Massachusetts. Toor's widely acclaimed first solo museum exhibition,
Salman Toor:
How Will I Know,
was on view in 2020-21 at the Whitney Museum of American Art in New York City. Toor's work is in the permanent collections of the Tate, London, United Kingdon; Whitney Museum of American Art, New York, New York; Walker Art Center, Minneapolis, Minnesota; M Woods, Beijing, China; Museum of Contemporary Art Chicago, Chicago, Illinois; Hessel Museum of Art at Bard College, Annandale-on-Hudson, New York; RISD Museum, Providence, Rhode Island; and Wake Forest University Art Collection, Winston-Salem, North Carolina, among others.
Salman Toor in his Brooklyn studio, 2022.
image by Hanya Yanagihara, courtesy the artist. All rights remain with image owner
All images of the works courtesy of the artist and Luhring Augustine, New York.
© Salman Toor
Photo: Farzad Owrang.